History.com has this for 8 July 1951: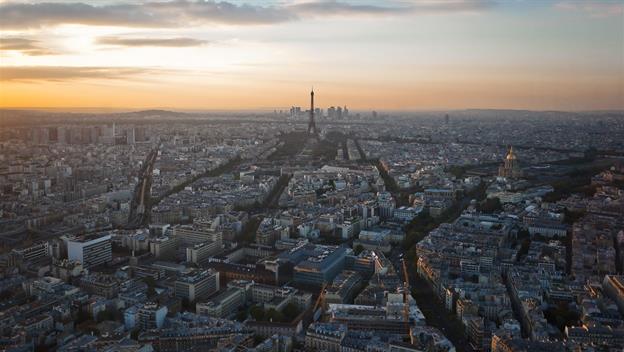 On

8 July 1951

, Paris, the capital city of France, celebrated turning two thousand years old. In fact, a few more candles would've technically been required on the birthday cake, as the City of Lights was most likely founded around 250 BC.
The history of Paris can be traced back to a Gallic tribe known as the Parisii, who sometime around 250 BC. settled an island (known today as Ile de la Cite) in the Seine, which runs through present-day Paris. By 52 BC, Julius Caesar and the Romans had taken over the area, which eventually became Christianized and known as Lutetia, Latin for "midwater dwelling". The settlement later spread to both the left and right banks of the Seine, and the name Lutetia was replaced with Paris. In 987 AD, Paris became the capital of France. As the city grew, the Left Bank earned a reputation as the intellectual district, while the Right Bank became known for business.
During the Renaissance period, from the late fifteenth century to the early seventeenth century, Paris became a center of art, architecture, and science. In the mid-1800s, Napoleon III hired civic planner Georges-Eugene Hausmann to modernize Paris. His designs gave the city wide, tree-lined boulevards, large public parks, a new sewer system, and other public works projects. The city continued to develop as an important hub for the arts and culture. In the 1860s, an artistic movement known as Impressionism emerged, featuring the work of a group of Paris-based artists that included Claude Monet and Pierre-Auguste Renoir.
Today, Paris is home to some two million residents, with an additional ten million people in the surrounding metropolitan area. The city retains its reputation as a center for food, fashion, commerce, and culture. Paris also continues to be one of the world's most popular tourist destinations, renowned for such sights as the Eiffel Tower (built in 1889 to commemorate the hundredth anniversary of the French Revolution), the Arc de Triomphe, the Champs-Elysees, Notre Dame Cathedral, built in 1163, the Luxembourg Gardens, and the Louvre Museum, home to Leonardo da Vinci's Mona Lisa.
Rico says okay, fifty years ago it was a good thing, and the place is worth celebrating...